| | | |
| --- | --- | --- |
| | More about L2TC.com... | |
L2TC.com is a free website giving access to a large filming locations (real) database of movies, TV films, TV series...
It so associates cinema with tourism.
When known, the scenes are specified and/or the geographical coordinates of the place give access to their situation on a Google Maps map.

Some web links are suggested to deepen a film or a location in one click.
L2TC.com, a reference (in France)

in Guide Vert Michelin France, "Filmographie" section

on Wikipedia, L2TC.com is regularly quoted like reference

Recommanded by the Bibliothèque du Film (Movie library), "Trouver un lieu de tournage" (Find a shot location), section (p.22) (pdf)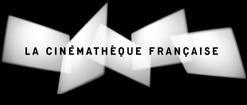 Referenced by La Cinémathèque française (Ciné Web).
L2TC.com in the media (in French)
January 5th, 2012

Magazine L'Express, article Find Movies Shot In Your District
December 21st, 2011

Magazine Liberation Next, article A Map To Find Movies Shot In Paris
December 2009

Website selected in the magazine Best On Web
May 14th, 2007

Magazine Elle, article "Revivez les scenes cultes"
by Maria Rozenman
May 11th, 2007

Article about "Geography of the film enthusiast"
July 5th, 2006

Article about "Know all about shot locations"
May 24th, 2006

Article about "Marie-Antoinette" (2006) : "Sur internet" section
May 11th, 2006

The chronicle of Eve Pellizzoni
May 11th, 2006

in the "Easy ways of Lea" (audio mp3, 1 Mo)
May 22nd, 2003

Guide du Routard, "Shot locations"
April 15th, 2003
in
with Laur@ du Web


---
Visitors of L2TC.com: you!
The visitors of L2TC.com come from 229 countries and from 154332 different locations.
81% come from France, 19% out of France.

Out of France, the countries with the most visitors are:

| | | | | |
| --- | --- | --- | --- | --- |
| United States (52%) | Germany (29%) | China (3%) | United Kingdom (2%) | Russia (2%) |
| Ukraine (1%) | Netherlands (1%) | Italy (1%) | Canada (1%) | Republic of Singapore (1%) |


In France, the regions with the most visitors are:

| | | | | |
| --- | --- | --- | --- | --- |
| Ile-de-France (39%) | Nord-Pas-de-Calais (10%) | Rhone-Alpes (6%) | Haute-Normandie (6%) | Provence-Alpes-Cote d'Azur (5%) |
| Centre (5%) | Pays de la Loire (3%) | Bretagne (3%) | Picardie (3%) | Midi-Pyrenees (3%) |
Distribution of the visitors of L2TC.com in France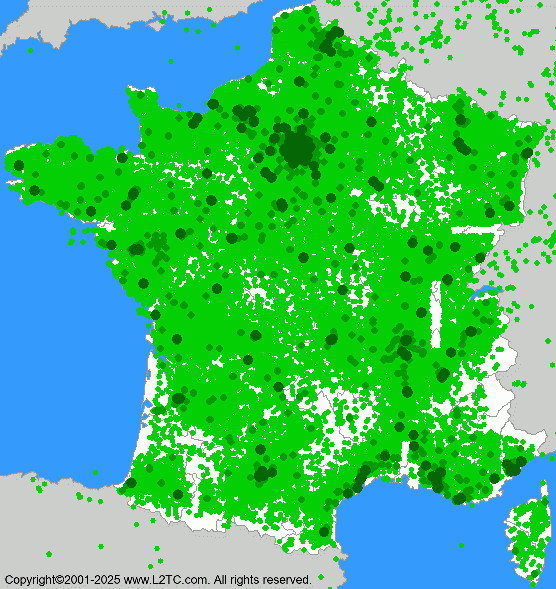 ---
L2TC.com in ciphers
Films
Localized films number
9748
Films number
TV film, TV series, documentaries, etc.
7813 (80%)
1935 (20%)
Films years average
Oldest film year
1983
1895

Distribution of the number of films by sections of year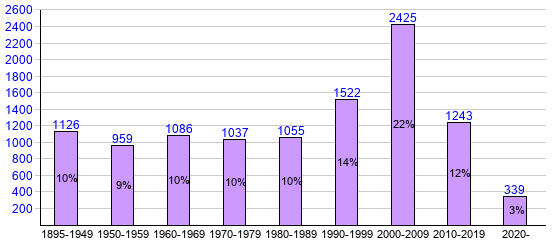 Shot locations
Average locations number per film
4,5
Countries number
180
Locations in France percentage
Locations in United States percentage
Locations in United-Kingdom percentage
Locations in the 177 other countries

68%
8%
4%
20%

Localization minimum precision:
for France
for United States
for other countries

region
state
country
Locations in studio percentage
6%
Distinct tourist links number


The selected Web sites are the official sites or those having good informative and/or photographic contents with minimum ads.

11459
Web site
Key dates
December 2001: opening of the website
April 2002: 1000 films located and Google referencing
December 2002: complete redesign of the website
April 15, 2003: L2TC.com on Telematin (french TV program), more than 3000 visits on the day
February 2006: 5000 films located
June 2008: opening of the forum
November 2009: complete redesign of the website and DVD jacket
July 2011: 20000 filming locations (for more than 7100 films)
February 2016: 30000 filming locations (for more than 8300 films)
November 2020: 40000 filming locations (for more than 9500 films)
Décembre 2021: L2TC.com celebrates its 20th anniversary!
Server owner
Localization
Toulouse (FR-31)